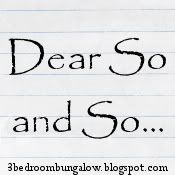 Dear Max,
Please, PLEASE can you just go to sleep at bedtime instead of staying up till 10pm or later? Mummy and Zack both need their sleep.
Love,
Your very sleepy family
—–
Dear Zack,
I KNOW you like walking around in just your boxers, but if you insist on doing this, DON'T COMPLAIN about the cold! Get some clothes on, please!
Love,
Your non-nudist mum
—–
Dear Rocky Da Cat,
Stop doing your business in the middle of our garden. That's what bushes are for!
Love,
The person who can decide whether you stay in or go out when it's raining.
—–
Dear Santa,
Please please PLEASE can you get me a Nikon D90 for Christmas?
Love,
I-can-only-do-so-much-with-this-camera (aka Me)
—–
Dear Bank,
Stop playing mind games by making it look like I have more money than I do in my account. It's just not FAIR! See above.
Love,
Not skint but not rich Me
—–
Dear Bin Men,
I HAVE A DRIVE WAY. Feel free to put my bins BACK where you got them instead of leaving them in the middle of the (small) pavement so others can at least get by. Feel free to do this with every bin you come across. IT'S NOT THAT HARD.
Love,
Person-who's-sick-of-having-to-walk-on-the-road-to-get-by-bins
—–
Oooh that was fun! Have you got any Dear So and So's? Go over to Kat's and check out who others have been writing letters to!