I've been really enjoying doing a monthly bucket list for the last wee while. It's a great way to keep me accountable, and quite honestly to get more done than I might without. So let's get started!
First off, let's see how we did with last month's bucket list:
I'm not gonna lie, I didn't get a huge amount done last month from my bucket list. With Christmas and uni deadlines it was pretty frantic, and that's without even taking into account the extra time and support Max needed to get through the run up. It can be quite difficult for him, though he did amazingly well this time and managed to stay in school right till the last day – a huge achievement for my boy!
FAMILY
Take Max to meet Santa somewhere. 

– this one didn't happen unfortunately… like I said above, Max did amazingly well with staying in school right to the end of term, but the downside was at the weekends and after school he was absolutely exhausted!

Have all Christmas presents wrapped BEFORE Christmas Eve. (I seem to panic-wrap every single time!) 

– DONE! I'd wrapped all but a few wee bits and pieces by the time the school was out for the holidays. Woot!

Visit the Christmas Markets with the boys. 

– another no go here, for the same reason as Max didn't meet Santa this year. Still, there's always next time! 
HOME
Kitten-proof our Christmas decorations (HA!). 

 Well, I don't think anyone who's ever been owned by a cat will have thought this would happen. Deenah managed to climb right up the middle of our tree daily, and ended up being shut in the kitchen at night so she wouldn't do herself or the decorations any damage! 

Have decorations down by Hogmanay (New Year's Eve for those who aren't Scottish!). 

DONE! You can bet your bottom dollar that I had the tree and decorations away on Dec 27th – I was so over constantly chasing the kitten! LOL

Finish gutting the toys from the boys' room. 

Erm… nope. That IS going to be tackled this month though, even if it's just one bag-full at a time!
BLOG
Write at least one post a week, every week, for December. For the love of god it shouldn't be that difficult! 

AHAHAHAHAHAHA. Nope. I had fallen behind with uni and so it had to take precedent. There just wasn't enough time for everything and at the end of the day, kids and uni deadlines had to come first. 

Write that damn Work With Me page. 

Yeeeah… nope. Totes gonna do that soon though!

Join in properly with Aby's Wrap Party! 

DONE! Absolutely loved doing the Wrap Party. So many ideas and tips that are being implemented behind the scenes now. 
ME
Start meal planning – it makes life SO much easier. 

Not exactly, but I had more of an idea what to buy meals-wise with shopping than I have previously, so I suppose I sort of did?

Finish my next uni assignment *before* the Christmas holidays, instead of panicking about it the week before it's due, at the start of January. 

Hell yeah! DONE! I was pretty proud of myself managing to get this finished before the end of the term last month. Had a look over it yesterday, polished it up a bit, and submitted with four days to go. 

Take time out to switch off properly. I am allowed to not be productive all the time. 

DONE! I imposed a no uni and no blogging rule from Friday the 22nd till Wednesday the 27th, and it helped a lot! I properly unwound and enjoyed spending time with my boys. 
And now we move onto January's Monthly Bucket List!
FAMILY
I'm declaring the rest of this month a spend-free one. Other than bills and food, we don't need to buy anything after Christmas and the New Year sales!
More time spent outdoors – getting ourselves wrapped up and out for a walk. This one can be tricky with Max but so long as I encourage him to take photos with his iPad, he seems happy enough to go along with it now!
HOME
The kids' room. Toys all decluttered. Really.This month it will get done!
Basically just keep on top of the housework here… no spend = nothing new here.
Again with the menu planning. As in actual meals planned and written out in advance so I have less to think about!
BLOG
Get that Work With Me page done once and for all, along with a Disclosures page.
Sign up for affiliates to use appropriately.
Prepare posts a week in advance, to go live on Mondays.
Join in with another linky.
ME
Get back into a better sleep schedule – it's gone all over the place since the holidays! But hey, that's what they're for, right? Bed by 10pm-11pm every weeknight.
Figure out a better balance between uni work and blogging. Uni has to take precedent at the end of the day, so if I can start my week off by getting it done first on Mondays and Tuesdays that leaves the rest of the week for blogging. Sorted, yes?
Making sure I switch off properly at the weekends. If there's one thing that I really loved about this Christmas it was enforcing a no-uni-no-blog period from when the kids finished school till the 27th. Having that time away from the headspace of "must do ALL THE THINGS" really helped. So Saturdays and Sundays are NOT to be used for anything but family time and me time.
I guess that's it for this month… I hope I can manage all of these. It's really helped me get things in order over the last few months which is fantastic, so fingers crossed January 2018 goes the same way.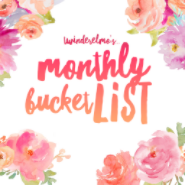 SaveSave
SaveSave
SaveSave
SaveSaveSaveSave
SaveSave
SaveSave
SaveSave
SaveSave
SaveSave
SaveSave
SaveSave