Last month I decided to start taking part in Twinderelmo's Monthly Bucket List for the first time. I like the idea of having some goals for the month, and it keeps me accountable. Or at least that's the idea!
First off, let's see how we did with last month's bucket list:
FAMILY
Go to our local Bonfire Night celebrations with friends. Max loved it last year so fingers crossed the weather will hold out for us to go again this week. – DONE! Happy to say this was a  complete success! We had a brilliant wee time and it felt so good to do this with my boys. <3 
Decide on, buy and wrap the boys' Christmas presents so I don't need to stress wrap on Christmas Eve as usual.

– well, I've bought their main present. Cashflow has stopped me from being able to get everything already… rent and bills must be paid after all.

 
Get out for family walks as much as possible, and bring my camera!

– We've done less of this than I'd like to, but have been out and about a bit. With the bitterly cold weather coming in and Max's asthma, it can be tricky.
HOME
Gut the boys' room. I need to go through their old toys – it's been too long and their room is a mess!

– Half done… just need to sort through that last pile of toys and it's finished!

Get someone in to clean the carpets. Two boys, two cats and a dog equals carpets that are in need of some love.

– DONE! Borrowed a carpet cleaner from a friend and did it myself – many times over, but it's sorted. Now to order a nice rug for their room. 

Organise the kitchen cupboards. I went into Home Bargains this week and bought a ton of storage boxes to help with this.

– DONE! I've managed to sort through all the cupboards and have everything organised. Also no more out of date foods in our house!
BLOG
Schedule blog posts at least a week if not two in advance.

– not done. At all. *sigh* Oh well!

Write and publish a Work With Me page. I've been putting this off for too long.

– also not done. Ahem. 

Earn something from sponsored posts. Two if possible. #PRRequest right here!

– not done with this either, but then I need to get my stats up a bit more before this is properly possible really, so I'm working on it.
ME
Stick to an earlier bedtime, 10-11pm at the latest. I've been doing this for about a week now and it's making a huge difference in my energy levels.

– DONE, and feeling so much better for it – my energy levels are still doing well, yay!

Keep on top of my uni studying by making Mondays and Tuesdays study days.

– sort of done… I'm keeping on top of things so that's good. Also got results back for my first assignment – 85%! Why yes, yes I am proud of myself!

Cook more meals from scratch. I'd been slacking on this one and again over the last week have been cooking more again. I'd forgotten how much I enjoyed it.

– DONE. Not every night, but I've been cooking more and Zack has been helping. Enjoying making meals again which I hadn't for a while – I think my energy levels are definitely helping with this!
I'm pretty happy with what I've managed to do in November!
Now onto my Monthly Bucket List for December:
FAMILY
Take Max to meet Santa somewhere.
Have all Christmas presents wrapped BEFORE Christmas Eve. (I seem to panic-wrap every single time!)
Visit the Christmas Markets with the boys.
HOME
Kitten-proof our Christmas decorations (HA!).
Have decorations down by Hogmanay (New Year's Eve for those who aren't Scottish!).
Finish gutting the toys from the boys' room.
BLOG
Write at least one post a week, every week, for December. For the love of god it shouldn't be that difficult!
Write that damn Work With Me page.
Join in properly with Aby's Wrap Party!
ME
Start meal planning – it makes life SO much easier.
Finish my next uni assignment *before* the Christmas holidays, instead of panicking about it the week before it's due, at the start of January.
Take time out to switch off properly. I am allowed to not be productive all the time.
I'm really enjoying doing this monthly bucket list! It's interesting to see how much I manage to get done. 🙂 What's on your list of things to do in December?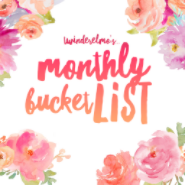 SaveSave
SaveSave
SaveSave